Creamy courgetti recipe with prawns, fresh parsley and garlic.
Courgetti with Creamy Prawns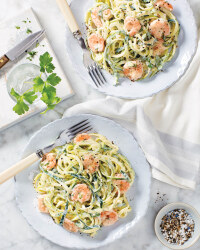 Recipe Information
Ingredients
1 tbsp Olive Oil
1 plump Garlic Clove, crushed
2 x 100g bags Jumbo King Prawns, thawed
300ml pot Reduced Fat Crème Fraîche
2 tbsp Fresh Parsley, chopped
1 tbsp Fresh Basil Leaves, torn
Freshly ground Salt and Black Pepper
Method
Spiralise the courgettes using the 'thin spiral cone' blade.
Heat the oil in a medium saucepan, add the garlic and cook over a medium heat for a few seconds.
Add the prawns and continue cooking until they have lost their translucency and are pink all over – approx. 3-4 minutes.
Add the crème fraîche and heat very gently.
Bring a large pan of lightly salted water to the boil and add the courgetti.
Cook for 20-30 seconds, then drain thoroughly.
Return to the hot pan along with the prawn sauce, herbs and a few good twists of black pepper.
Mix gently to combine and serve immediately.