Serve these Courgette Pancakes with Pepper Salsa for a lovely lunch or supper.
Courgette Pancakes with Pepper Salsa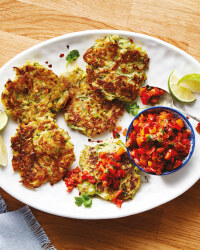 Recipe Information
Ingredients
Pancake Ingredients:
2 Courgettes
2 Spring Onions (sliced)
100g The Pantry Plain Flour
1 tsp Baking Powder
½ tsp Salt
½ tsp Pepper
Sunflower Oil (to cook)
Pepper Salsa Ingredients:
1 pack Specially Selected Sweet Mini Peppers (cored and sliced into small cubes)
100g Cherry Tomatoes (quartered)
1 tbsp Olive Oil
1 Red Chilli (seeds removed, finely diced)
½ Lime (juiced)
7g fresh Coriander
Method
Pan fry the peppers in olive oil.
When softened, add the chilli and tomatoes along with the lime juice, coriander and leave to reduce while you make the pancakes.
Grate the courgettes and place in a bowl with the sliced spring onions.
Add the flour, baking powder and seasonings and mix.
Leave the mix for 5 minutes. The natural water in the courgettes will make the batter moist. If necessary, add a teaspoon of water.
Heat a frying pan with 2-3 tsp of oil whilst spooning the pancake batter into the pan.
Fry for 5 minutes until golden and then flip over and cook for 2-3 more minutes.
Serve with the red pepper salsa and some coriander over the top.