Enjoy this healthy dinner recipe taken from RTE's Operation Transformation
Chicken & Vegetable Coconut Curry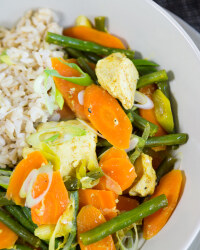 Recipe Information
Ingredients
160g tin coconut millk
½ tsp mild curry paste or powder
¼ tsp ground turmeric
¼ tsp ground cayenne pepper (optional)
2 skinless and boneless chicken fillets
1 bunch of scallions
4 carrots
200g green beans
80g wholegrain brown rice
sea salt and freshly ground black pepper
Method
Preheat the oven to 160C / 325F / gas mark 3. Pour the coconut milk into a casserole dish (or use a small roasting tin with a lid made of tin foil) and whisk in the curry paste or powder, turmeric with the cayenne pepper. Cut the chicken into bite-sized pieces and stir into the coconut.
Trim the scallions and finely chop. Peel the carrots and cut into thin slices and trim the green beans and cut each one in half. Stir into the chicken mixture (reserving a little scallion as a garnish) and season with plenty of freshly ground black pepper, then cover with a lid. Place in the oven and cook for 1 hour or until the chicken is piping hot with no pink meat and the juices run clear.
Once the chicken has been cooking for half an hour, rinse the rice well in a sieve and then put into a small saucepan with 250ml of water and a pinch of salt, if using. Bring to the boil, then reduce the heat and cover with a lid. Simmer for 25 minutes without lifting off the lid, then turn off the heat and leave to sit for another 10 minutes for perfectly cooked rice (or simply cook according to packet instructions). This rice can sit happily for up to 30 minutes with the lid on.
Fluff up the rice with a fork and divide among bowls or plates. Spoon over the chicken and vegetable coconut curry and scatter over the reserved scallions to serve.