Enjoy this healthy dinner recipe taken from RTE's Operation Transformation
Chicken & Chorizo Pasta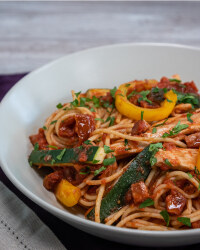 Recipe Information
Ingredients
80g wholewheat penne pasta
1 yellow pepper
1 courgette
60g sun-dried tomatoes, well drained
5g fresh flat-leaf parsley
30g raw chorizo
2 skinless and boneless chicken fillets
400g tin chopped tomatoes
sea salt and freshly ground black pepper
Method
Bring a large saucepan of water to the boil with a pinch of salt. Add the penne and cook for 10-12 minutes or until tender or according to the packet instructions.
Meanwhile, cut the pepper in half and remove the seeds and core, then thinly slice. Trim the courgette and cut into batons. Cut the sun-dried tomatoes into strips. Finely chop the parsley leaves.
Heat a large frying pan over a medium heat. Cut the chorizo into small dice, discarding any skin. Add to the heated pan and cook for 1 minute or until it starts to sizzle.
Meanwhile, cut the chicken into strips with a small sharp knife. Add to the sizzling chorizo, tossing to coat and stir-fry for 2-3 minutes or until lightly browned.
Add the pepper and courgette and sauté for 2-3 minutes until tender. Scatter over the sun-dried tomatoes and pour in the tin of tomatoes, stirring to combine. Simmer for a few minutes to slightly reduce and until piping hot with no pink meat and the juices run clear.
Drain the pasta and then fold into the chicken and chorizo mixture with the parsley. Divide between wide rimmed bowls to serve.