An impressive Asian salad recipe with exciting seasoning, carrots and almonds.
Carrot Ribbon Asian Salad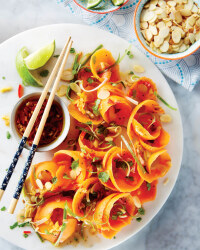 Recipe Information
Ingredients
2 large Carrots, trimmed and peeled
3-4 Spring Onions, trimmed and sliced lengthways into 3cm long sticks
1 plump Garlic Clove, crushed
1 small Red Chilli, seeded and very thinly sliced
1 tbsp Lime Juice
1 tbsp Cream Sherry
1 tsp Dark Soy Sauce
1 tbsp Specially Selected Rapeseed Oil
Thumb-sized piece Ginger, peeled and grated
Freshly Ground Black Pepper
2 tbsp Flaked Almonds
1 tbsp Fresh Coriander, chopped
1 tbsp Fresh Mint, chopped
Method
Spiralise the carrots using the 'twister spiral cone' and place in a serving bowl along with the spring onions.
Mix together the crushed garlic, chilli, lime juice, sherry, soy sauce, oil, ginger and a few twists black pepper.
Pour over the carrots and gently mix.
Toast the flaked almonds either under a grill (take care not to burn) or in a dry pan, shaking the pan to toast evenly.
Sprinkle over the salad and finish with a sprinkling of chopped herbs.