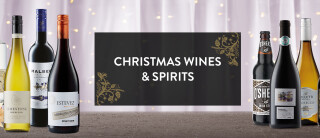 A Selection of the Best
With our passion for finding amazing wines, spirits and beers, you can trust that we've got a bottle to suit every taste this Christmas at an Aldi amazing price. All these hand-picked bottles will pair perfectly with every festive occasion, from sitting by the fire to sharing great memories with friends and family. Cheers!
Spirits of Christmas
Keep your drinks trolley stocked over the Christmas season with gins you love and new tastes to try. From unique flavours to small craft batches, our selection is a perfect mix for every occasion.
Which glass do you need?
Get the most from your drink or cocktail and enhance the flavour and aroma by choosing the right glass. Tumbler, Balloon, Snifter or Martini – because size and shape matters when it comes to taste.
Cocktail recipes
Impress your guests this Christmas with our deliciously simple cocktails. Creamy, fruity, sweet or sour, there's one to suit everyone's taste. Let's get mixing!