Enjoy this healthy lunch recipe taken from RTE's Operation Transformation.
Build Your Own Salad Bowl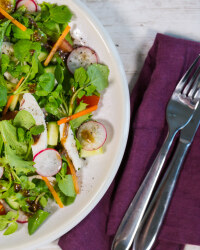 Recipe Information
Ingredients
50g crisp Lettuce, (such as Little Gem or Romaine)
50g soft Lettuce (such as Butterhead or Watercress)
175g Vegetables (such as Tomatoes, Cucumber, Carrot, Button Mushrooms, Radishes or Fennel – or use a mixture)
150g cooked Turkey or Chicken, 200g tinned drained Tuna, 300g cooked peeled Prawns or 2 tbsp Hummus
1 tbsp Vinaigrette Salad Dressing
Sea Salt
Black Pepper
Method
Wash and dry the two types of lettuce leaves and put into a salad bowl and season lightly with salt, if using and pepper to taste.
Trim and thinly slice vegetables into bite-sized chunks, then add to the salad with the turkey or chicken or tuna or prawns or hummus.
Drizzle the vinaigrette salad dressing over the salad bowl and toss lightly to coat before serving.
If eating away from home, layer up the salad in a suitable airtight container or screw-topped jar and finish with your chosen protein (turkey, chicken, tuna, prawns or hummus), then have the salad dressing in a small pot to add just before serving. Bring along a fork to eat.