The perfect winter pie. Beautifully cooked beef and mushrooms in a crispy puff pastry pie.
Beef & Mushroom Pie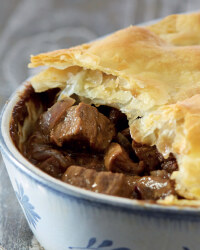 Recipe Information
Ingredients
1kg Beef Diced Steak Pieces
1 tbsp Olive Oil
500ml Water
2 Beef Stock Cubes
1 tbsp Meat Gravy Granules
2 x 300g tins
Whole Button Mushrooms
1 x 375g pack Ready Rolled Puff Pastry
Salt and White Pepper
Method
Pre-heat the oven to 190°C/375°F/Gas Mark 5.
In a medium saucepan heat the olive oil, add the diced beef and brown.
Pour over the water, add the stock cubes and bring to the boil.
Cover the pan and simmer for about 45 minutes – until the meat is tender.
Add the gravy granules to the pan to thicken the sauce.
Drain the mushrooms and add to the pan.
Season with salt and pepper.
Pour the mixture into a round, ovenproof pie dish.
Top with the pastry, trim around the edges and bake in the oven for 20 minutes until the pastry has browned and risen.