No BBQ would be complete without vegetable kebabs. Fill them up on skewers, sit back and enjoy.
BBQ Vegetable Kebabs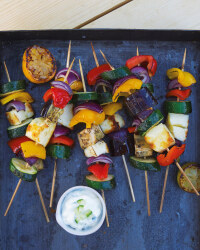 Recipe Information
Ingredients
1 Red Onion
1 Red Pepper
1 Yellow Pepper
1 Courgette
1 Aubergine
Your choice of Cheese
4 tbsp Olive Oil
Juice of half a Lime
tsp Salt
½ tsp Pepper
For the tzatziki dip:
4 tbsp Greek Yoghurt
½ Cucumber
1 clove of Garlic
Method
Soak 6 wooden skewers in water for half an hour. This will prevent the skewers from burning on the BBQ.
Meanwhile, cut the red and yellow peppers in half and remove the seeds. Slice into chunks. Peel and slice the red onion into chunks. Slice the courgette into rounds. Slice the aubergine into chunks, about the same size as the peppers. Slice the cheese into bite-sized morsels.
Thread the vegetables onto the skewers; start with a piece of courgette, then a piece of red pepper, then a few pieces of red onion, a piece of yellow pepper, a piece of cheese and then a piece of aubergine. Repeat until all of the vegetables have been skewered.
Mix the olive oil with the lime juice, salt and pepper. Use this mixture to brush the vegetable skewers before cooking on the BBQ over a high heat for 10 to 15 minutes, turning to achieve an even charring. Remove from the grill when the vegetables are cooked through.
Make the tzatziki dip by placing the Greek yogurt in a bowl. Finely dice the cucumber and mix through the yogurt. Finely grate in the clove of garlic and mix through the yogurt.
Serve the kebabs straight from the BBQ with the tzatziki dip.