Creamy pasta pesto with salmon, baked with a layer of crispy breadcrumbs.
Basil Pesto Salmon Bake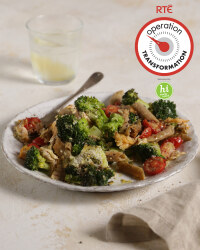 Recipe Information
Ingredients
1 x large head of Broccoli (400g)
200g Cherry Tomatoes
2 x tsp Rapeseed Oil (10g)
80g wholewheat Penne Pasta
1 x tbsp Basil Pesto (15g)
2 x tbsp light Cream Cheese (30g)
2 x 120g cooked Salmon Fillets
2 x tbsp Panko Breadcrumbs (10g)
Salt (optional) and freshly ground Black Pepper
Method
Preheat the oven to 180°C/350°F.
Cut the broccoli into small bite-sized florets – you'll need 300g in total.
Cut the cherry tomatoes in half.
Place the pasta in a pan of boiling water with a pinch of salt (optional) and cook for 10-12 minutes until just tender.
Add the broccoli for the last 2 minutes of cooking time and blanch until almost but not quite tender.
Drain the pasta and broccoli in a colander and reserve a cupful of the cooking liquid.
Place the pasta and broccoli in a large bowl and fold in the pesto and cream cheese, adding two to three tablespoons of the cooking water to make a smooth light sauce that just binds everything together.
Flake the cooked salmon and add to the pasta mixture with the tomatoes.
Put in a small baking dish and sprinkle the panko breadcrumbs on top, then drizzle over the rest of the oil.
Bake for 15-20 minutes until the top is golden and crunchy.
Cut the basil pesto salmon bake into portions and arrange on plates to serve.