Autumn Berry Traybake Pudding
Autumn Berry Traybake Pudding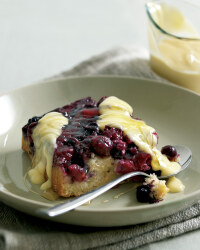 Recipe Information
Ingredients
1 x 500g bag frozen Black Forest fruit mix
2 tbsp light brown sugar
300g self-raising flour
150g light brown sugar
1 free range egg, beaten
180ml semi-skimmed milk
125ml olive oil
Ready to serve custard
Squeezy honey
Method
Pre-heat the oven to 180°C, gas mark 4.
Place the frozen fruits into a 24 x 18 x 4cm deep tray.
Sprinkle over the 2 tbsp brown sugar.
Place the rest of the brown sugar and flour into a bowl and mix well.
Beat the milk, egg and oil together well then add to the flour and sugar.
Stir, but do not overwork the mixture. Spoon over the fruit and sugar, spread out evenly, then pop into the oven.
Cook for 25-30 minutes or until well browned and risen.
Remove from the oven and leave to cool for 10 minutes.
Turn out onto a tray, cut and serve with warm ready to serve custard and a nice drizzle of honey.