Great served with grilled steaks or chicken.
Au Poivre Sauce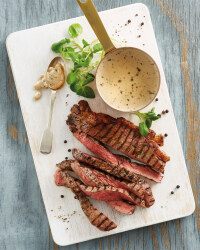 Recipe Information
Ingredients
4g Black Peppercorns
1 Beef Stock Cube
100g Lighter Soft Cheese with Garlic and Herbs
80ml boiling water
10ml Soy Sauce or Brandy
Method
With a mortar and pestle, grind the peppercorns coarsely.
Dissolve the stock cube in the boiling water.
Then, put the soft cheese, stock, peppercorns, soy sauce or brandy into a small saucepan and heat through, whisking as you cook.