This Houmous Stuffed Athenian Chicken recipe is a great way to make chicken that's full of flavour and packed with protein
Athenian Chicken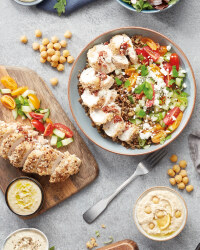 Recipe Information
Ingredients
4 x chicken breasts
150g classic houmous
100g drained sundried tomatoes
1 x 150g log garlic and herb goats' cheese
60g sourdough bread slices
40g plain flour
80ml olive oil
Method
Make breadcrumbs from the sourdough using a food processor.
Chop the sundried tomatoes.
Put the chicken breasts under some greaseproof paper and using a rolling pin bash them a bit to flatten.
Divide the tomatoes and the goat's cheese between them – putting them in the middle of the breasts.
Roll over the chicken to make a crescent shape encasing the tomatoes and goat's cheese.
Sprinkle the flour over the breasts and pat into the chicken with your fingers. Then, spread the houmous over the top of each breast and sprinkle the breadcrumbs over the houmous. Using your fingers, lightly to push the breadcrumbs into the houmous.
Using a fish slice carefully transfer to a greased baking sheet.
Drizzle over the olive oil and bake for 30 mins.