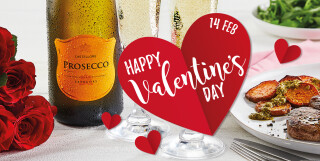 All you need is love… and amazing Aldi prices
This week we've brought you lots to love for less in our Valentine's Day range – amazing food, bubbly bottles, indulgent chocolate treats and luxury fresh flowers. Plus, we've got plenty of recipe inspiration. Start planning the perfect Valentine's Day today.
The perfect recipes for romance
Looking for a little inspiration to make your Valentine's Day even more special? You've come to the right place! We've got a whole range of amazing recipes to choose from to help you impress your loved ones.