Sweet potato skins filled with a mixture of sweet potato, cheese, onions and mayonnaise.
Stuffed Sweet Potatoes with Cheese and Chilli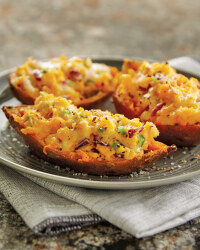 Recipe Information
Ingredients
6 medium Sweet Potatoes
180g grated Mature Cheddar Cheese
1 medium Red Onion
2 Green Chillies
60ml Mayonnaise
30ml Olive Oil
Sea Salt
Black Pepper
Salsa and Sour Cream Dip to serve
Method
Pre-heat the oven to 200°C/400°F/Gas Mark 6.
Wash the sweet potatoes and dry.
Prick them over a few times with a fork and rub them with some olive oil.
Put onto a baking tray and sprinkle with some sea salt.
Bake in the oven for 50 minutes.
Meanwhile, peel and finely chop the red onion.
Cut the chillies in half lengthways, remove the seeds and any white pith, then finely chop the flesh.
Mix the grated cheese, chillies, onions and mayonnaise together in a large bowl, then season with a little salt and some black pepper.
Once the potatoes are cooked, cut them in half lengthways.
Scoop out the flesh – take care not to damage the skins.
Add the flesh to the cheese mixture and mix well.
Spoon back into the skins – bake in the oven for a further 10 minutes, then serve alongside the sour cream and salsa.