Make your salads summery with this scrumptious strawberry and basil salad.
Strawberry & Basil Salad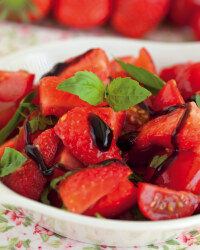 Recipe Information
Ingredients
500g chopped Irish Strawberries
2 tbsp thinly sliced Fresh Basil
2 tsp Balsamic Vinegar
1 tsp freshly squeezed Lemon Juice
¼ tsp Salt
¼ tsp Freshly Ground Black Pepper
Method
Take the chopped Irish Strawberries, sliced basil and combine in a large bowl. Take the balsamic vinegar, sugar, lemon juice, salt and pepper and whisk together. Gently pour the dressing onto the salad, tossing to cover.