Sprouts with Pancetta & Apple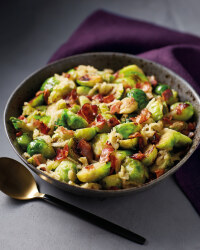 Recipe Information
Ingredients
400g Brussels Sprouts
50g Pancetta
10ml Rapeseed Oil
1 Green Eating Apple
2 Cloves Garlic
Sea Salt and Black Pepper
Method
Trim the sprouts and place into a saucepan with the unpeeled garlic. Pour boiling water over and season with salt.
Cover and cook for 10 minutes.
Drain and halve the sprouts.
Heat oil in a wok and sauté strips of pancetta before adding the grated apple.
Cook for 8 minutes, stirring as it cooks. Add the sprouts and season with pepper before serving.