Smokey Pork Chops, Baby Potatoes and Green Beans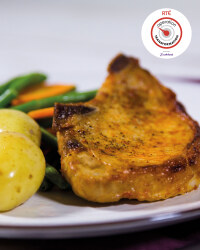 Recipe Information
Ingredients
2 Pork Loin Chops (well trimmed)
2 tsp Olive Oil (10g)
½ tsp Smoked Paprika
300g Baby New Potatoes
2 Carrots
200g Green Beans
Sea Salt and freshly ground Black Pepper
Method
Pre-heat the grill to medium.
Mix the oil with the paprika and season with salt and ground pepper to taste then brush over the pork chops.
Cook under the grill for 10-12 minutes, turning once or until cooked through and tender, then keep warm in a low oven 110°C/225°F/Gas Mark ¼ for 5 minutes.
Bring the potatoes to the boil in a half a saucepan of water (with a pinch of salt if wanted), then simmer gently for 15-20 minutes or until tender.
Meanwhile, peel and slice the carrots and trim the green beans and cut in half.
Put the carrots into a saucepan fitted with a petal steamer with the beans on top.
Cook for 5 minutes until tender.
Put the chops onto a plate, add the carrots, greens beans and potatoes and serve.
Prepare ahead
Prepare the pork chops and brush with the flavoured oil, then cover with clingfilm and store in the fridge for up to 3 days.
Prepare the carrots and green beans up to 1 day in advance and keep covered with clingfilm in the fridge so that they are ready to cook.