Homemade recipe for tasty Smoked Mackerel Pâté. Great for quick starters and snacks.
Smoked Mackerel Pate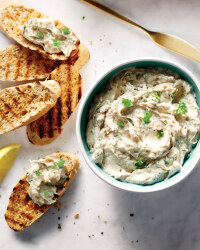 Recipe Information
Ingredients
1 x 200g pack Smoked Mackerel Fillets
100g Soft Cheese
30g Horseradish Sauce
30g Salted Butter, at room temperature
Juice ½ Lemon
6g Fresh Parsley, chopped
50g Mayonnaise
Method
Take the skins off the mackerel and break them up. Put them in a food processor along with all the other ingredients.
Pulse until well blended. Put into a bowl and serve. Great with griddled slices of French baguette or pitta bread.