This wholesome and filling breakfast will keep you satisfied for hours.
Simply Porridge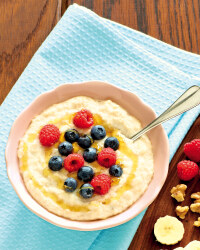 Recipe Information
Ingredients
50g Porridge Oats
350ml Water or Milk (or ½ and ½)
Method
Mix the milk or water with the porridge oats.
Pour into a small saucepan, slowly bring to the boil and simmer, stirring for 4-5 minutes, until thickened.
Serve topped with honey or some fresh blueberries.