A lovely rich bowl of goodness – Roasted Vine Tomato Soup.
Roasted Vine Tomato Soup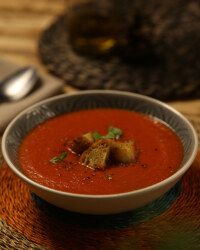 Recipe Information
Ingredients
750g Cocktail Vine Tomatoes
1 Onion
2 Cloves of Garlic
2 tbsp Olive Oil
1 tbsp Balsamic Vinegar
½ tsp Sugar
½ tsp Salt
½ tsp Pepper
500ml Vegetable Stock
1 tbsp Tomato purée
5g Fresh Basil
Method
1. Preheat the oven to 180C.
2. Slice the tomatoes in half and place on a baking tray then peel and slice the onion and peel the garlic and add these to the tray.
3. Drizzle over the oil, vinegar, sugar, salt and pepper and mix.
4. Roast for 30-40 minutes until the tomatoes and onions have cooked through and started to colour at the edges.
5. Place the roasted tomatoes, stock, tomato purée and fresh basil in a pan and warm through then blitz with a hand blender
6. Serve with croutons and fresh basil on top.