Delectable,delightful and decadent. These cupcakes are a perfect dessert to share.
Red Velvet Cupcakes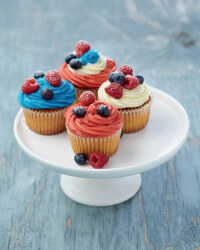 Recipe Information
Ingredients
180g Perfect for Baking Spread
180g The Pantry Caster Sugar
160g The Pantry Self Raising Flour
20g Cocoa Powder
3 Large Eggs
10g tube Red Food Gel
½ tsp Vanilla Essence
12 The Pantry Paper Cup Cases
200g Choceur White Chocolate
200g Soft Plain Cheese
110g Unsalted Butter
12 hole bun tin
Method
Put the flour, sugar, eggs, spread, cocoa powder and the food colouring in a food processor and blend until well mixed.
Put the paper cases in the tin and divide the mixture between them.
Preheat the oven to gas mark 4/170C and bake in the oven for about 15 minutes to rise until just firm to the touch.
Allow to cool.
Break up the chocolate and put into a heat-resistant bowl, along with the butter, over a pan of boiling water and stir until melted.
Make sure the bottom of the bowl doesn't touch the water.
Remove the bowl from the pan, add the soft cheese, vanilla essence and a few drops of the food colouring of your choice and whisk well. If you are icing your cupcakes in multiple colours, separate your mixture out into different bowls before adding the food colouring.
Allow to cool and then pipe over the top of the cupcakes.
To brighten up your cupcakes, top with your favourite berries.