Looking for some spookily chilled sips? Try this Red Berry Drac-uiri for inspiration.
Red Berry Drac-uiri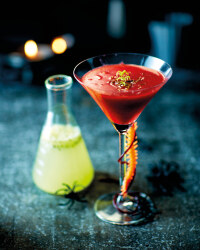 Recipe Information
Ingredients
200g Strawberries - fresh or frozen
200g Raspberries - fresh or frozen
2 big handfuls Ice Cubes
2 Limes
100ml White Rum (optional)
Method
1. Zest the limes and keep to one side.
2. Put the strawberries and raspberries in a blender and add the ice and juice of the limes.
3. Blend until a smooth slushy-like consistency.
4. Add the rum if desired.
5. Serve in ice cold glasses and decorate with lime zest curls.