Classic creamy Porridge. Served with Raspberries, Flax Seeds and a dollop of Honey.
Raspberry & Honey Porridge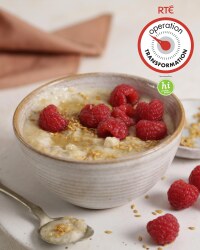 Recipe Information
Ingredients
50g Porridge Oats
250ml Low Fat Milk (1.5% fat)
80g Raspberries
1 tsp Honey (5g)
1 tsp Flax Seeds (otherwise known as Linseeds) (5g)
Method
Place the oats in a pan with the milk and place on the hob over a medium heat.
Cook for 5 minutes, stirring occasionally with a wooden spoon until thickened and creamy.
Transfer to a bowl and drizzle with the honey.
Scatter over the flax seeds and raspberries to serve.