Try a cool and refreshing sorbet with a hint of bubbles. Perfect.
Prosecco Sorbets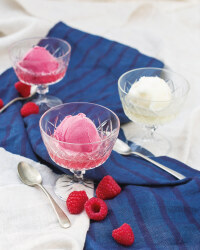 Recipe Information
Ingredients
1 tub of Raspberry Sorbet
1 tub of Lemon Sorbet
1 bottle of Valdobbiadene Prosecco
Method
Scoop some raspberry and/or lemon sorbet into a dessert bowl. Top with a splash of sparkly Prosecco and serve immediately. Savour.