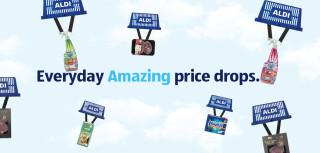 We're dropping our prices... again!
We're always championing low prices at Aldi, so to ensure our shoppers receive great value, we've dropped our prices again!
Pricedrop Amazing
We've dropped a whole range of prices on the things you need every day. So why not drop in to browse our amazing range.
Recipe Ideas
Our fresh fruit and veg recipes will inspire you to be a bit more adventurous with meal times.