A tasty pancetta, red onion, herb and lemon stuffing recipe for family roasts.
Pancetta, Red Onion, Herb & Lemon Stuffing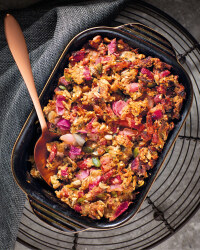 Recipe Information
Ingredients
3 x 80g packs Specially Selected Pancetta
2 Medium Red Onions, peeled
30g Butter
1 x Lemon
20g Fresh Herbs – Rosemary, Parsley and Thyme
70g Crunchy Trail Seed Mix
3 x slices Malted Bloomer Bread
1 x large Egg
Salt and Pepper
Method
Pre-heat the oven to 200°C/400°F/Gas Mark 6.
Chop the red onions and fry them in the butter along with the chopped pancetta.
Cook on a low heat until the onion is softened.
Make some breadcrumbs with the malted bloomer.
Chop the herbs finely and mix with the breadcrumbs and seed mix.
Add this mixture to the onion and pancetta.
Zest the lemon and add to the stuffing mix, along with the juice.
Season with some salt and black pepper.
Finally, whisk the egg and add to the mix.
Put into an ovenproof dish and bake in the oven for 15 minutes.