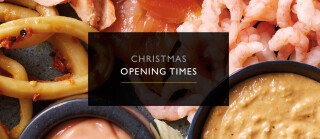 Christmas and New Year opening times
Don't forget, in the run-up to Christmas Eve, we're open as usual from 8am-10pm Monday to Friday.
Monday 18 - Sat 23 December - 9am-10pm
Christmas Eve 24 Dec - 9am-7pm
Christmas Day 25 Dec - CLOSED
St. Stephen's Day 26 Dec - CLOSED
Wednesday 27 - Sat 30 Dec - 9am-9pm
New Year's Eve 31 Dec - 9am-7pm
New Year's Day 1 Jan - CLOSED
Tuesday 2 Jan - 9am-10pm
Together we'll make it special
Yes Christmas is finally here and Kevin is back. But that's not all, because our favourite carrot has found his one true love Katie! Follow their romance throughout the festive season along with a range of inspiring hints and tips to make your Christmas truly amazing.