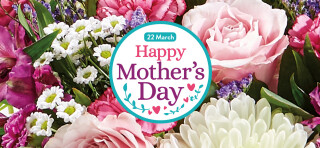 Mums are amazing every day
At Aldi, we love Mums more than anything! So when Mother's Day comes around we celebrate Mums with flowers, gifts, wine and homemade meals. If you plan on celebrating your Mum, you will love our Mother's Day range. Take a look.
Flowers for Mum
Find beautiful flowers for Mum in our amazing Mother's Day range. There's a selection of bouquets to match your budget.
Take your pick
Flowers are always a favourite on Mother's Day. Find the perfect bouquet for your budget instore before they're gone!
Special gifts for Mum
From candles and jewellery boxes to teddies and tote bags, treat your Mum to something special with our wide range of great value gifts
Raise a toast to Mum
Whatever your Mum fancies, you're sure to find a bottle she'll love in our collection of wines, spirits and fizz

Make a meal Mum will love
Take a page from our cookbook and serve your Mum a masterpiece on Mother's Day. Whether it's breakfast, lunch or dessert, she'll enjoy it more because it's from you.