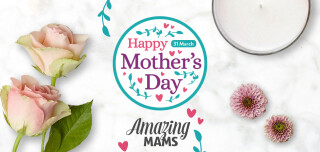 Something amazing for your Amazing Mam
Where would we be without our amazing Mams? They are the one person we can rely on to do the things that no one else can. So, whether you treat her to some beautiful blooms, a luxury gift or one of our delicious recipes, it's time to make Mam (and Nan) feel amazing, because that's exactly what she is.
Beautiful blooms she'll love
There's no better way to show Mam how much you love her than by treating her to one of our fabulous floral Mother's Day gifts.
Flowers for every budget
From stunning bouquets to beautiful gift baskets, we've got something that will make every Mam feel like one in a million. Mother's Day Flower's range in store from 28th March. And all at a blooming great price.
Perfect Mother's day gifts
From Foot Spas and Slippers to Handbags and Candles, we've all sorts of brilliant ways to bring a smile to Mam's face this Mother's Day, with an amazing range of special gifts that let her know just how much she means.
Cheers to Mam!
Help her celebrate Mother's Day in style this year and choose something she'll love from our amazing wines, bubbles and spirits.

Make it for Mam
Surprise her and dine her so she can put her feet up. Our online recipe collection has all sorts of meal ideas for making mam feel extra special with breakfast in bed to a brilliant brunch or big family dinner that will bring everyone she loves together.