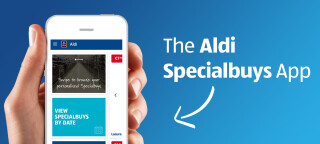 View Specialbuys, anytime
We've added some new features to your Specialbuys mobile app, making shopping at Aldi even easier.
The Aldi Specialbuys App
Here's some interesting things to know about our free Aldi app:
• It's designed to be tailor made to suit you and your shopping needs.
• You can find your nearest Aldi store when out and about.
• You can also see what our latest food offers are!
• And what's more, you can browse the range up to one week before they arrive in store. Cool, eh!
Download our new FREE app now to swipe and see for yourself today.