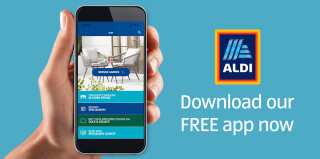 Aldi on your phone. Amazing!
Download the free Aldi app today and you'll have Everyday Amazing in your pocket all day long. It's great for browsing the latest offers. You can see your favourite items, including Specialbuys and Everyday collections. Learn more below.
Simple to navigate
You'll love the simple, clear design of the app. We've made it easy to find every product and browse them all with just a few taps.
Find our latest offers
You'll never miss a deal again! Browse all of our latest grocery offers before you head in to store.
Browse Specialbuys
Everybody loves the Specialbuys at Aldi. With the app, you can sit back and swipe through the latest items from the comfort of your own home. New products will be available every Thursday and Sunday so don't miss out!
Aldi app available on iOS and Android devices
It's not just for phones. You can download the Aldi app to any smart device that runs on iOS or Andriod. That includes iPads and tablets. Head to Google play or the App store on your device to download the free app today.