Beautifully plump prawns served over refreshing melon. The perfect pairing.
Melon with prawns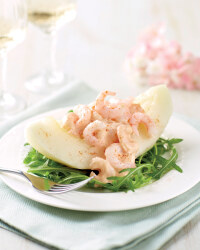 Recipe Information
Ingredients
1 x Honeydew Melon
1 x 325g Bag Frozen Large Prawns - defrosted
200g Mayonnaise
2 tsp Tomato Purée
½ tsp Paprika
Rocket Leaves to serve
Method
Make sure the prawns are defrosted and drain off any water.
Mix the mayonnaise with the tomato purée and paprika, stir in the defrosted prawns and lightly mix.
Cut the melon into quarters, remove any pips, and then carefully cut away the rind; to leave 4 boat shaped melon portions.
Divide the prawns between the four melon boats; serve on a bed of rocket leaves.