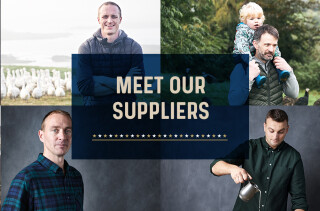 The suppliers who make Christmas amazing
Your perfect Christmas is only made possible thanks to the team of suppliers working behind the scenes all year long. It's their hard work and passion that produces all the fresh, award-winning products you love. Let's take a minute to give them the spotlight they deserve.
Free Range Irish Turkeys
Edward Maguire is the fourth generation of his family to farm free range Irish turkeys in the fields of Co. Monaghan. His turkeys are free to range from dawn until dusk, seven days a week, allowing Edward to produce the star of the Christmas dinner.
Everyday Irish, Everyday Amazing
Aldi has always been committed to championing amazing Irish quality, and it's never more needed than at Christmas. Discover the stories of our amazing suppliers and how they will be providing Aldi customers with quality Irish meat, potatoes, cheese and plenty more across the festive season.
Irish Lamb

Farming is a way of life for John Pringle and his family. For John, it's the unique and idyllic surroundings of Wicklow Hills and the ideal amount of rainfall to fertilise the soil that makes his lamb so succulent.
Irish Potatoes

5 generations of the O'Shea family have farmed along the banks of the River Suir in Piltown, Co. Kilkenny since 1830. They employ 190 local people. Consistent quality and freshness are cornerstones to their business.
Brussel Sprouts

Brussel Sprout growers Anthony and Enda Weldon are the third generation of growers in Swords, Dublin, and love what they do. They have unrivalled expertise in production with a process that ensures same-day freshness.
Irish Spirit

Award winning Boyle's Gin is made with the finest imported botanicals, Cork apples, Wexford blackcurrants and Waterford elderflowers. Peter and his team at Blackwater Valley love knowing they bringing pleasure to people across Ireland.
Golden Geese

Daniel Hickey has worked with his parents on Skeaghanore Farm since he was a boy. His geese eat, dig and enjoy the scenic views of Roaring Water Bay. He believes that the sea air is key to the geese's unique flavour.
Cheese with Character

Michael Cahill says 'we at Carbery have been making cheese for more than 4 generations'. The milk is sourced from grass fed cows. Every cheese is 100% Irish and carefully selected by expert cheese graders.