This is the perfect indulgent summer treat!
Ice Cream Cookie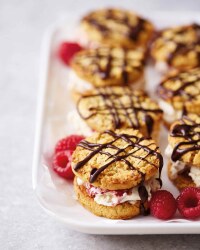 Recipe Information
Ingredients
1 x 200g pack Specially Selected Cookies with Belgian chocolate chunks
240ml Specially Selected Strawberry Cheesecake Luxury Ice Cream
Method
Allow the ice cream to melt a little.
Then divide into four balls.
Put a ball of ice cream on top of a cookie, flatten down with a knife.
Top with another cookie to make a sandwich.
Pop back in the freezer for 10 mins to chill – then serve
Why not try another flavour – choose between Specially Selected Stem Ginger and Fruit and Nut Cookies with Specially Selected Madagascan Vanilla and Salted Caramel Praline Ice Creams