You can't beat a delicious roast. Try this succulent slow roast chicken.
Herby Roast Chicken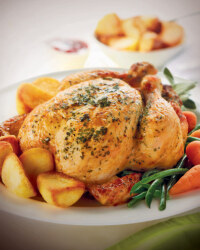 Recipe Information
Ingredients
1 medium Whole Chicken (200g serving chicken per adult)
1 bunch Rosemary, Thyme, Sage
1 Lemon
2 Carrots, peeled and chopped
2 Parsnips, peeled and chopped
1 small Turnip, peeled and chopped
1 Garlic Bulb, peeled
1 Red Onion, peeled and chopped
500g Potatoes, peeled and halved
1 tbsp of Rapeseed Oil
1 tbsp of Butter
Method
Pre-heat oven to 140°C/275°F/Gas Mark 1.
On a chopping board, using a rolling pin, roughly bash the garlic cloves. Grate the zest of one lemon. Pick the thyme off the stalks. Roughly chop the thyme and sage. Add the garlic and lemon zest to a bowl, with the thyme, sage and rapeseed oil.
Separate 90% of the skin from the chicken. Fill the space between the chicken and the chicken skin with the garlic mixture. Place the chopped carrots, parsnips and turnip into a large roasting dish and top with the chicken. Scatter any remaining garlic mixture over the chicken, and then rub the outside of the chicken with butter.
Cut the lemon in half and place one half inside the chicken along with the rosemary. Sprinkle onions around the vegetables and then cover the chicken with foil and cook for 3 hours.
After the chicken has been in the oven for 3 hours, remove the foil from the chicken and continue cooking for a further 1 hour or until the chicken is cooked.
Place the potatoes into a large pot and cover with cold water. Bring to the boil and simmer for 10-15 minutes. Drain water from potatoes. Place 2 teaspoons of rapeseed oil in an ovenproof dish and add in potatoes. Sprinkle 1 teaspoon of oil on top of potatoes and put in oven for 30-45 minutes. Season with salt and pepper.
For the last 30 minutes of cooking the chicken, increase the oven to 220°C/425°F/Gas Mark 7 and roast for 25-30 minutes until the skin is crisp.
Once cooked, lift the chicken from the dish and place on a warm plate to rest for 5 minutes before serving.
Carve the chicken and serve with the vegetables and potatoes.