This heart shaped Red Velvet Cake is the perfect pudding to treat your loved ones.
Heart Shaped Red Velvet Cake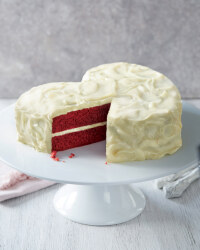 Recipe Information
Ingredients
180g block Perfect for Baking – softened
180g caster sugar
150g Self Raising flour
30g Cocoa powder
3 x large eggs
½ teaspoon Vanilla essence
1 x 10g tube red food gel
1 x heart shaped cake mould
White chocolate cream cheese frosting
200g soft cheese
125g unsalted butter – softened
200g Choceur white chocolate
Method
Preheat the oven to 180°C/350°F/Gas Mark 4
In a large bowl, cream the perfect for baking with the caster sugar
Add the eggs one at a time – beating well after each addition.
Stir in the food colouring and the vanilla essence.
Sift in the flour and cocoa powder, beat well.
Lightly grease the cake mould.
Add the cake mix and bake in the centre of the oven for 25 mins, till the cake is well risen and firm to the touch.
Allow to cool in the mould before turning out.
Meanwhile, for the frosting, melt the chocolate in an ovenproof bowl over a pan of boiling water – make sure the bottom of the dish doesn't touch the water.
Cut the butter into small pieces.
Allow the chocolate to cool slightly then whisk in the soft cheese and the butter – beat well.
Cut the cake in half lengthways and spread some of the frosting onto the base cut side, put the top back and cover the cake with the rest of the frosting.