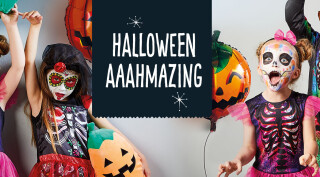 Everybody, get to Aldi for an aaahmazing Halloween!
We're big fans of fright night – so this Halloween at Aldi you'll find everything you need to have a terrifying time! From creepy costumes for you or your little devils to spine-chilling ideas to put on the most petrifying party, we've got it covered – together with trick or treat sweets or something a little healthier, with our frighteningly tasty recipes.
Freaky fancy dress ideas!
When you're throwing a monster bash for the kids or taking them trick-or-treating, there's nothing like dressing up to get in the spirit of Halloween. And at Aldi, you'll find all you need!
Home is where the horror is
From decking out your doorway and ghouling up your garden to dressing your house for a horror party, we've a whole host of amazing décor ideas to make it look the part.
Graveyard Games!

Pumpkins at the ready. These spooky game ideas will keep kids of all ages entertained on Halloween, like bobbing for apples, pin the tail on the monster and wrap the mummy!
Put on your scariest face!
Need a devilish disguise? Try these frightening face-painting ideas. Perfect for monsters of all ages.
Terrifyingly tasty Halloween recipes
Sweets, treats, hearty meals and drinks. Need a few ideas that'll have them screaming for more? Try our Mummified Sausage Rolls, Eyeball Spaghetti and Pumpkin Fondue Cauldron!