The perfect cake for the family to enjoy
Fruit and Cream Layer Cake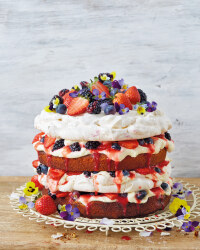 Recipe Information
Ingredients
Sponge
200g Butter, softened
200g Caster Sugar
200g Self-raising Flour
50g Ground Almonds
2 Eggs & 2 Egg Yolks
2-4 tbsp Milk
150g Blackberries
Meringue
3 large Egg Whites
180g Caster Sugar
Lemon Cream
600ml Double Cream
200g Clotted Cream
2 tbsp Lemon Juice
1 tbsp Lemon Zest
Strawberry Puree
150g Strawberries
10g Caster Sugar
Squeeze of Lemon Juice
Assembly
250g Strawberries, a few halved for the top, the rest sliced for the inside
150g Blueberries
50g Blackberries
Optional: edible flowers eg violas, pansies, rose petals, cornflowers, borage
Method
Line the base of 2 loose-bottomed 20cm cake tins with baking paper and grease the sides. Pre-heat the oven to 160C/140C fan/ gas 4
Add the sponge ingredients (except the blackberries) to a bowl then beat together until well combined. Stir in the blackberries and divide the batter between the tins.
Bake for 30-40 mins or until a skewer comes out clean. Then, turn the sponges onto a cooling wire and set aside.
Reduce oven temp to 120C/100C fan/gas 2. For the meringue, draw 2 x 18cm circles on baking paper and place on baking sheets.
Whisk the egg whites until soft peaks have formed. Gradually add the sugar, 1 tbsp at a time and continue whisking until stiff peaks have formed.
Put 1/2 the meringue into each circle and spread evenly. Peak the top of one meringue with the back of a spoon.
Bake for 1.5 to 2 hrs. Turn off the oven and leave inside to cool completely.
While the meringue is cooling make the strawberry puree by blending together the strawberries, sugar and lemon juice. Sieve to remove any seeds.
Just before assembling the cake prepare the lemon cream - whip the double cream until soft peaks then stir in the clotted cream and lemon juice and zest.
To assemble the cake, lay one of the sponges on a cake stand, spread with 1/3 of the lemon cream and scatter over some sliced strawberries, a few blackberries and blueberries and drizzle over some strawberry puree. Top with the flat meringue, then repeat with the lemon cream, fruit and puree.
Add the second layer of sponge and then again repeat with a last layer of cream fruit and puree.
Finish with the peaked layer of meringue and decorate the top with the halved strawberries, the remaining blueberries and blackberries and a scattering of edible flowers.