Tasty blackforest fruits with a crummbly Madeira cake top.
Forest Berry Bake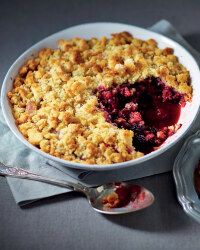 Recipe Information
Ingredients
500g Four Seasons Black Forest Fruits
120g Grandessa Strawberry Jam
50ml Water
20ml Lemon Juice
1 Holly Lane Madeira cake, crumbled
70g Greenvale Unsalted Butter, softened
Find your ingredients online on Click & Collect or find your nearest store using our Store Finder.
Method
Pre-heat the oven to 190°C/375°F/Gas Mark 5.
Tip the frozen fruit into the baking dish.
Put the strawberry jam, water and lemon juice into a small saucepan and cook on a low heat until the jam has melted, then pour over the fruits.
Mix the melted butter with the cake crumbs and sprinkle over the fruits.
Bake in the oven for 20 minutes until golden brown.
Serve with ice cream or whipped double cream.