Looking for the best festival survival kit? Read on…
Festivals are great places to see the hottest bands with your family and friends. So plan your trip with our festival tips and festival hacks. From the essential pop-up tent, camping beds, adjustable chair and festival tips to those must-have festival wellies – we'll get you through smiling and dancing to some great sounds.
Whether you're a seasoned festival goer or a 'newbie', Aldi have everything you need from tents and cook sets to wellingtons and adjustable chairs at amazing low prices. They're in store from 4th June and the quality is so good that whatever you buy will last for festivals to come. Yay!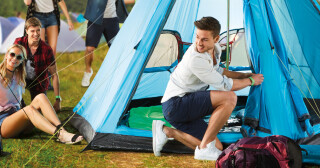 Whether you're going by road, rail or ferry, it pays to travel light as you need to get all your gear onto the festival site once you arrive. Camping facilities at some festivals are limited so check in advance. Finally, check travel times and delays en route before setting off.
Kilkenny Roots Festival 28 April – 1 May | Life Festival 26 May – 28 May
Forbidden Fruit Festival 3 Jun - 5 Jun | Vantastival 3 Jun - 4 Jun
BARE in the Woods 9 Jun - 11 Jun | Live at the Marquee 9 Jun – 14 Jul
Body and Soul 23 Jun – 25 Jun | Sea Sessions 23 Jun – 25 Jun
Trinity College Concerts 6 Jul – 11 Jul | Iveagh Gardens 6 Jul – 23
Longitude 14 Jul – 16 Jul | Galway International Arts Festival 17 Jul – 30 Jul
Castlepalooza 4 Aug – 6 Aug | The Beatyard 5 Aug – 6 Aug
Indiependence 4 Aug – 6 Aug | Groove Festival Aug – 20 Aug
Bulmers Live At Leopardstown 17 Aug | Electric Picnic 1 Sep – 3 Sep
Hard Working Class Heroes 28 Sep – 30 Sep | Metropolis 3 Nov – 5 Nov
Festival tent ✔ Waterproof jacket ✔ Wellingtons ✔ Welly socks ✔ Toilet roll ✔ Wet wipes ✔
Dry shampoo ✔ Cereal bars ✔ Bottled water ✔ Toothbrush ✔ Head torch ✔ Ear plugs ✔
Eyemask ✔ Paracetemol ✔ Bin bags ✔ Sun cream, sunglasses and sun hat ✔
• Make a unique flag to act as a meeting place for your friends.
• Take a picture of the site map on your phone.
• Avoid the charge tent by taking spare phone batteries or wind-up charger.
• Wrap some gaffa tape around a plastic bottle to fix wellies or leaks in tents.
• Take a speaker for your phone so the music can go on when the bands have stopped.
When you're at a festival you need cheap and quick food ideas. Luckily, we have lots of great suggestions like packet noodles, beans and packet soups (cereal bars are another). Make a quick list of your festival faves and take a trip to your nearest Aldi before you go.
Stay a happy camper all weekend long with our festival and camping essential tips.
Host Your Own Garden Festival
Not doing a Festival this year? Why not host your own garden festival with our amazing value Specialbuys? With great prices on outdoor furniture, BBQ equipment and our brilliant Summer Beer Festival, you can enjoy a summer of fun all summer long.