A chunky, hearty and delicious soup, perfect served with a cheddar crouton.
Chunky Sweet Potato & Apple Soup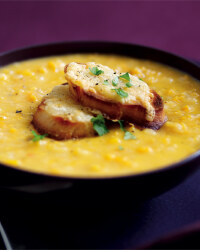 Recipe Information
Ingredients
4tbsp Extra Virgin Olive Oil
2 Medium Onions, peeled and finely chopped
4 cloves Garlic, peeled and chopped
1.4kg Sweet Potatoes, peeled and roughly chopped, but fairly small
4 Medium Potatoes, peeled and chopped the same size as the sweet potatoes
2 Apples, peeled, cored and roughly chopped
10g Vegetable Stock Cube
2 litres cold Water
200ml Double Cream
1 pack Part-Baked Rolls, cut into 8-12 slices
150g Cheddar, grated
Salt
Pepper
4tbsp heaped Mango Chutney
Method
Heat the oil, then add the onions and garlic.
Cook for 5 minutes to give a little colour.
Next add the potatoes, apples, stock and water, and bring to the boil.
Season well with salt and pepper, then turn down the heat and simmer for 35-40 minutes.
Once the potatoes are cooked and very soft, mash roughly with a potato masher, until you have a thickish chunky purée. This will thicken considerably.
Add the cream and mango chutney.
Check the seasoning and adjust if needed. Meanwhile, cut the rolls into diagonal slices and toast on one side.
Turn over and sprinkle generously with the grated cheese.
Return to the grill until the cheese melts.
Serve the soup in deep bowls with two cheddar croutons on top.
This soup will freeze well without the cream. Defrost, boil then add the cream.
Tips:
For a chunkier soup do not mash the potatoes too much.
Any potato will work well in the soup.
You can add a jar of Aldi Korma sauce instead of the stock for a creamy, curried edge to the soup.
For the Croutons, if you prefer the taste of something stronger than Cheddar, why not try Aldi's Mature Shropshire Blue Cheese? It makes a delicious substitute and adds a little extra colour.