These hearty pittas are a healthy alternative for lunches.
Chicken Salad Pittas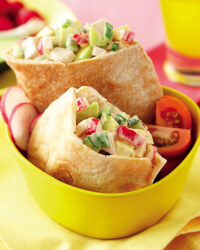 Recipe Information
Ingredients
6 pack Large White Pitta Breads
200g pack Chargrilled Chicken Breast Slices
125g pack Spring Onions - thinly sliced
100g Radish - finely chopped
¼ Cucumber - finely diced
1 Avocado - peeled, stone removed and chopped finely
140g Real Mayonnaise
1 tsp - Pesto Rosso
Method
Pre-heat the oven to 200°C/400°F/ Gas Mark 6.
Wrap the pitta breads in foil and place in the oven for 5 minutes to warm through.
Meanwhile chop the chicken breast slices into small pieces and add to a bowl. Then take the rest of the ingredients and add to the bowl and mix together.
Take the pitta breads out of the oven and cut them in half, gently making a pocket. Stuff them with the chicken salad mixture and serve.