An Indian classic. Spice up your tastebuds with this delicious Chicken Jalfrezi recipe.
Chicken Jalfrezi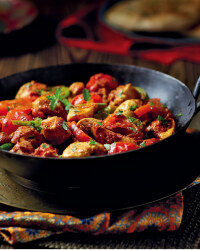 Recipe Information
Ingredients
360g jar Jalfrezi Sauce
375g pack British Diced Chicken Breast
½ Red Pepper, sliced
½ Green Pepper, sliced
1 tbsp Oil
2 Salad Tomatoes, each cut into 6
2 tbsp freshly chopped Coriander
Basmati Micro Rice to serve
Method
Sauté the chicken and peppers in the oil for a minute.
Stir in the spice mix from the top of the jar and cook for a further minute.
Stir in the sauce, cover the pan and simmer for 15 minutes or until the chicken is cooked.
Add the tomatoes and cook for a further 5 minutes.
Stir in the chopped coriander and serve with Basmati Micro Rice.