These carrot fritters are perfect for a quick and easy lunch, served with yogurt and mango chutney.
Carrot Fritters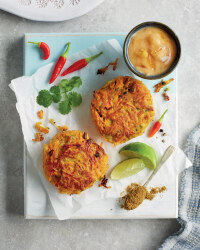 Recipe Information
Ingredients
400g Carrots
200g White Potatoes
1 pot fresh Coriander
1 tsp Ground Cumin
1 tsp Chilli Flakes
100g Plain Flour
100ml Milk
1 large Egg
Sea Salt and Black Pepper
70g Low Fat Greek Yogurt
90g Mango Chutney
Sunflower Oil to fry
Method
Peel the carrots and potatoes.
Coarsely grate them.
Wash your hands – squeeze excess moisture from the grated vegetables.
Put the grated veg in a bowl, add the cumin, chilli flakes and season with salt and plenty of pepper.
Chop the coriander finely and add to the mix.
Break the egg, whisk and add to the mixture, mixing well.
Sprinkle over the flour and mix again.
Add the milk and mix to combine.
Divide the mixture into 8 – about 80g each.
Shape into a ball, then flatten into a pattie shape.
Fry them in some oil on both sides until browned and crisp.
Mix the mango chutney with the yogurt and serve alongside the fritters.