A tangy and refreshing smoothie, perfect for a quick and easy breakfast.
Breakfast Fruit Smoothie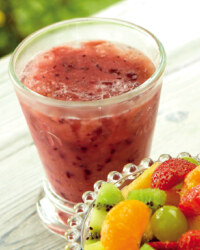 Recipe Information
Ingredients
2 Bananas
125g Raspberries
50g Blueberries
3 tsps Honey
235ml Apple Juice
5 ice cubes
A pinch of Ground Cinnamon
Method
Chop up all of the fruit, then place in a blender with all the other ingredients.
Blend until smooth and serve immediately.