Blue Cheese Straws with Cranberry Dipping Sauce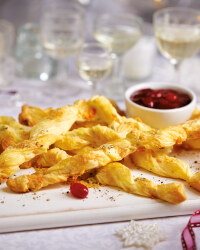 Recipe Information
Ingredients
375g packet Ready Rolled Puff Pastry
150g Specially Selected Mature Blue Stilton
1 Egg, beaten
Flour, to roll
100g Specially Selected Cranberry Sauce Enriched with Port
Method
Pre-heat the oven to 220°C/Fan 200°C/Gas mark 7.
To begin sprinkle your work surface with flour and then crumble 3 quarters of the stilton over half of the Greenvale ready rolled puff pastry.
Next fold over the other half of the pastry and then roll back to a rectangle about 1cm thick.
Now cut the pastry into even 1cm strips and twist them and place onto a baking tray covered in greaseproof paper.
Finally brush the pastry with the beaten egg and then sprinkle the remaining stilton over the top and bake for 12-15 minutes until the pastry has risen and it golden brown.
Serve the blue cheese straws with the Specially Selected cranberry sauce as a dip.