Enjoy this healthy dinner recipe taken from RTE's Operation Transformation
Black Bean Burrito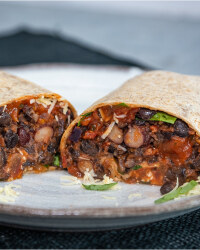 Recipe Information
Ingredients
1 garlic clove
½ small red onion
10g baby spinach leaves
20g Cheddar cheese
400g tin black beans (240g drained)
1 tbsp rapeseed oil (15g)
45g tinned kidney beans (drained and rinsed)
¼ tsp dried chilli flakes
200g tin chopped tomatoes (or ½ regular tin)
2 wholemeal wraps
2 tbsp salsa
sea salt and freshly ground black pepper
Method
Peel and crush the garlic. Peel the onion and finely chop. Shred the spinach and finely grate the Cheddar cheese.
Drain the black beans into the sink and rinse under cold running water. Drain well – you need 240g in total.
Heat the oil in a frying pan over a medium heat and add the garlic, onion, black beans, kidney beans and sauté for 1-2 minutes. Stir in the chilli flakes and then pour in the tomatoes. Bring to the boil and season lightly with salt, if using and pepper to taste. Reduce the heat to low and simmer for about 5 minutes until slightly reduced and piping hot, stirring occasionally.
Wipe the frying pan clean and place back on a medium heat. Add the wholemeal wraps for 10-15 seconds on each side. Put each one on a plate. Divide the bean mixture between them and top each one with the grated Cheddar, spinach and salsa, before tucking in the ends and folding into a burrito shape. Cut each one in half and arrange on plates to serve.