Banana and Peanut Butter Vegan Pancakes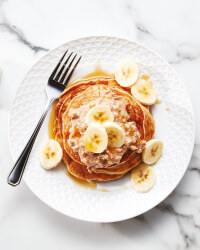 Recipe Information
Ingredients
1 ripe Banana (plus extra to serve)
50g The Foodie Market Whole Nut Crunchy Peanut Butter (plus extra to serve)
100g The Pantry Plain Flour
½ tsp The Pantry Baking Powder
2 tbsp Specially Selected Maple Syrup
150ml Acti Leaf Soya Milk
1 tbsp of Sunflower Oil (for cooking)
Method
Mash 1 banana in a bowl using a fork and then beat in 50g of peanut butter and the maple syrup.
Add the plain flour and baking powder and then gradually add the soya milk and mix until smooth.
Heat a frying pan, grease with a little sunflower oil and spoon the mixture into the pan (about 2 tablespoons per pancake).
Cook for 2-3 minutes until bubbles appear and then flip, cooking with a spatula for a few more minutes.
Serve with the remaining peanut butter and fresh sliced banana.