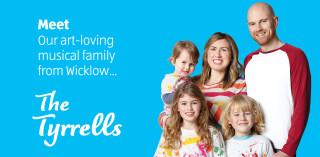 Meet the Tyrrells!
Rachel and James have a fun-loving family, including 3 lovely children and a brand-new puppy. They're big fans of painting and they're always looking for the personal touch when it comes to shopping.
Our Story
Art isn't the only way the Tyrrells like to get creative. A favourite family activity is cooking from scratch and using locally sourced ingredients as much as possible. Of course, they found all they need in their local Aldi with lots more. Here's a few highlights…
Discover more reasons to swap
Meet our other families, explore our full range in store and be inspired to cook delicious and nutritious family recipes. It's reasons like this why so many are making the swap. Find your reason today.