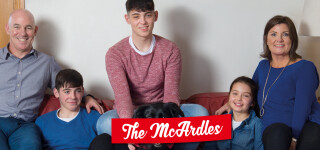 Meet the McArdles
Family of 5, the McArdles love to play sports in their spare time to stay active. They love tennis, swimming and rugby, and are keen on healthy eating and looking after themselves. They are saving for a family holiday abroad.
Our Swap and Save Story…
The McArdles were surprised by the great selection and value of health foods on offer in Aldi and couldn't get over the taste of the orange juice. Here's a few of their highlights.
Shopping before switching to Aldi took place between 20/09/18 to 17/10/18 and in Aldi took place between 18/10/18 to 14/11/18. Participants received a gratuity.
Meet the other families…
Let us introduce you to our families. Read their stories and hear about all their favourite products, recipes and tasty surprises. Does saving feel amazing? Let's find out.
Participants received a gratuity. See here for shopping dates.