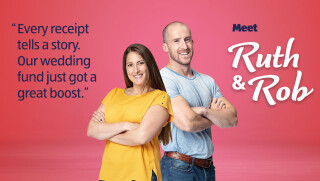 Meet Ruth & Rob
Ruth and Rob are due to get married in September and are working towards making their big day extra special. They enjoy learning Italian together and partaking in water sports in their spare time and are looking to spend their savings on their wedding.
Our Story…
Ruth and Rob loved the fresh meats and cheeses available at Aldi and were so impressed with the value. They are excited that they are now able to save more for their wedding fund. Here's a few of their highlights….
Shopping before switching to Aldi took place between 29/04/19 to 26/05/19 and in Aldi took place between 27/05/19 to 23/06/19.
Meet the other families…
Let us introduce you to our families. Read their stories and hear about all their favourite products, recipes and tasty surprises.
Participants received a gratuity. For shopping dates please click here.